Champagne for your Wedding
Have you considered bringing champange to your wedding event? Champagne will form a key part of your wedding party and it will ensure your guests will remember it for all right reasons. At Bahaghara, we can help you in buying the best champagne for your wedding.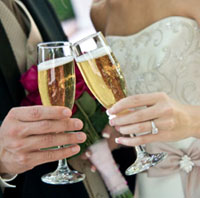 Champagne is a sparkling wine produced from grapes grown in the Champagne region of France. It is an alcoholic drink. French Champagne is widely regarded as superior to most other sparkling wine. Now a days champagnes are also produced in India. We can get champagnes from all over the world.
Mixed trays of pink and white champagnes in crystal champagne flute will go well, while cutting the wedding cake or champagnes on arrivals. We can work with you to select and buy champagnes that will fit your budget.
To buy champagnes for wedding, please call our friendly team. We'd love to hear from you!