Event Management Service
Bahaghara
event management
service is
Odisha
's leading event management company for all types of events. There is no substitute for live performance to feed adrenaline, excitement and enthusiasm for a product. Bahaghara event management service combines sound, staging, lighting & choreography in a dynamic presentation, leaving audiences spellbound. We work in close partnership with our customers to offer a service that sets new standards in event management, with our customers needs always at the forefront of our mind.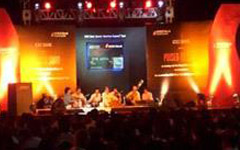 Bahaghara Event management service have over 20 years of experience in managing and producing events in
Bhubaneswar
and across other cities of Odisha on behalf of voluntary, private, public sector & government organisations. Running over 100 events a year ourselves, we know what it takes to run a successful event. We can help to manage a single event, a full programme of events or provide a comprehensive support function for your in-house team.
At Bahaghara event management, we treat every event as individual with its unique set of challenges and creative opportunities. Our expertise in creating a unique experience means that every rupees of your budget is used to a maximum effect.
Corporate Events / Wedding Events / Runway Fashion Shows / Fashion Events / Bridal Shows / Bridal Events / Photo Shoots / College Events / Production Events / Government Events / Media Events / Product Launch Events / Corporate Functions / College Functions